How to get from Langkawi to Koh Lipe?
The only way to get from Langkawi to Koh Lipe or vice versa by ferry only available during early of oct until mid of June every year. The exact schedule depends on the ferry operators and there will be some changes on timing every year which you need to take note. You can check the latest schedule and price HERE.
There are 2 departure points operated by different ferry operators. Below are some useful tips for you to choose which options best for you.
Option 1: Departure from Telaga Terminal (Telaga labour) —> Satun Pakbara Speed boat 
This is the shortest ferry route take less than 1 hour 30 minutes. This is the best option if you arrive from Langkawi airport or staying in Cenang beach because of the distance is nearer.
You will be arriving in Satun Pakbara Speed boat at Pattaya beach. There is a simple cafe that you can easily get a cup of coffee or tea or snack if you need some before get on board.
Option 2: Departure from Kuah Jetty —> Bundhaya Speed boat
This ferry route will take about 1 hour 45 minutes. This is the best option if you arrive from Penang/ Kuala Perlis/ Kuala Kedah as you do not need to do land transfer to Telaga which take about 30 min cost you pay more for the land transfer. This is also better option if you stay in Bundhaya resort/ villas as the speed boat stop right in front of the Bundhaya resort at Pattaya beach. Many shops are available in Kuah jetty such as restaurants, duty free shops, Starbucks, and etc.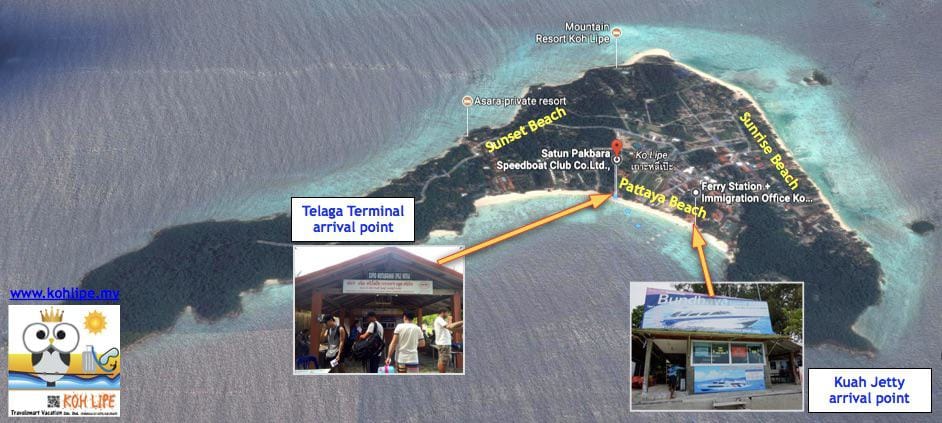 Any different for ferry for both options?
The answer is no only with different departure/ arrival points. The ferry can accommodate about 100-150 passengers depends on that day occupancy rate. The ferries are equipped with comfortable cushion seats with air-conditioned, toilet is at the behind of the ferry, plastic bags are prepared for those who have sea sick. Don't sell any foods or drinks during the journey, so got prepare some if you need it. The cruise journey depends on the sea conditions, generally will not so rough unless you meet the bad one. The ferry operator would delay or call off if the sea conditions not suitable for cruising.
Important remarks
Ensure you have valid passport with 6 months validity and visa (if applicable). Malaysia -Thailand boarder pass is allowed to use.
Ensure your name is not black listed in Malaysia or Thailand immigration for any reasons.
Ensure you do not bring excess of duty free items (such as liquors, cigarettes) as there will be custom check at both Malaysia & Thailand.You need to declare to custom if you carry any currency more than equivalent to USD10,000.
Get ready of THB200 per adult and THB100 per child (3-11.99 years old) for national park fees. The ticket is valid for 5 days and a must to bring while you go out for snorkelling and diving.